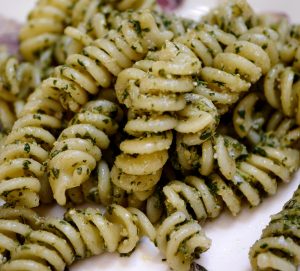 Here's another recipe that utilizes your fresh fan leaves.  A month before harvest, you should be thinning your cannabis plants by removing some fan leaves each day. Instead of tossing them out, use  freshly picked leaves in this delicious pesto.
Highlights of today's recipe
The most common pesto is made from combining fresh basil, parmesan cheese, pine nuts, olive oil and garlic. Several simple changes were made to make this a healthier version:
Fan leaves are the dominant ingredient instead of basil, however, enough basil is used to provide the dominant flavor of the pesto.
This recipe is made dairy free by substituting parmesan cheese with nutritional yeast, an excellent source of B vitamins.  I avoid dairy completely as I, like most people, find it difficult to digest.
Omega-3 rich English walnuts are used instead of pine nuts. Todays pine nuts are mostly sourced from China. I have experienced "pine mouth" when eating Chinese pine nuts – an annoying metallic taste which appears about a day after eating them and can last from a few days to several weeks.
Lemon juice gives this pesto a refreshing taste and the grated lemon peel contains d-limonene;  a terpene with anti-inflammatory and antioxidant properties.
  *                                         *                                        *
Raw Fan Leaf Pesto
Vegan and Gluten Free
[makes 1 cup]
This versatile pesto can be used on pasta, rice, vegetables, baked potatoes and more. Use it to stuff mushrooms, to flavor baked salmon, or as a dip.
Requirements – Food Processor
Ingredients
1 1/3 cups organically grown fresh cannabis fan leaves
2 to 3 cloves garlic, peeled
2/3 cups organic fresh basil
1/4 cup raw English walnut pieces
1 tablespoon grated organic lemon zest
2 tablespoons freshly squeezed lemon juice
2 tablespoons vegetarian nutritional yeast
1/2 teaspoon salt
1/4 cup extra virgin olive oil
Directions
Clean the fan leaves and remove the woody stems.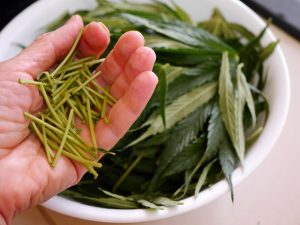 Run the garlic through the chute of a food processor until it is minced.
Place the destemmed fan leaves and the remaining ingredients into the food processor and process until fairly smooth.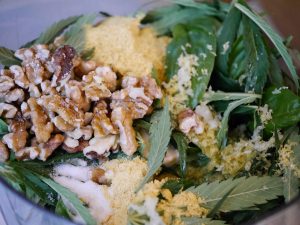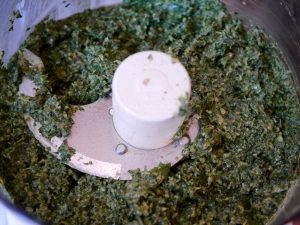 This recipe makes 1 cup of pesto.
Use immediately or refrigerate. For longer storage, place in the freezer.
Since the cannabis leaves are raw, any THC that exists in the fan leaves would be in their acid form (as THCA) and therefore should not have any psychoactive effect.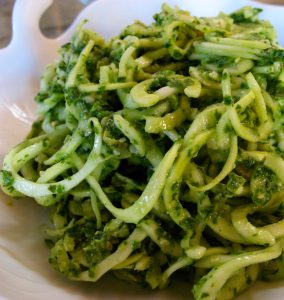 Enjoy!